Mark Vincent pays Tribute to Mario Lanza & the 3 Tenors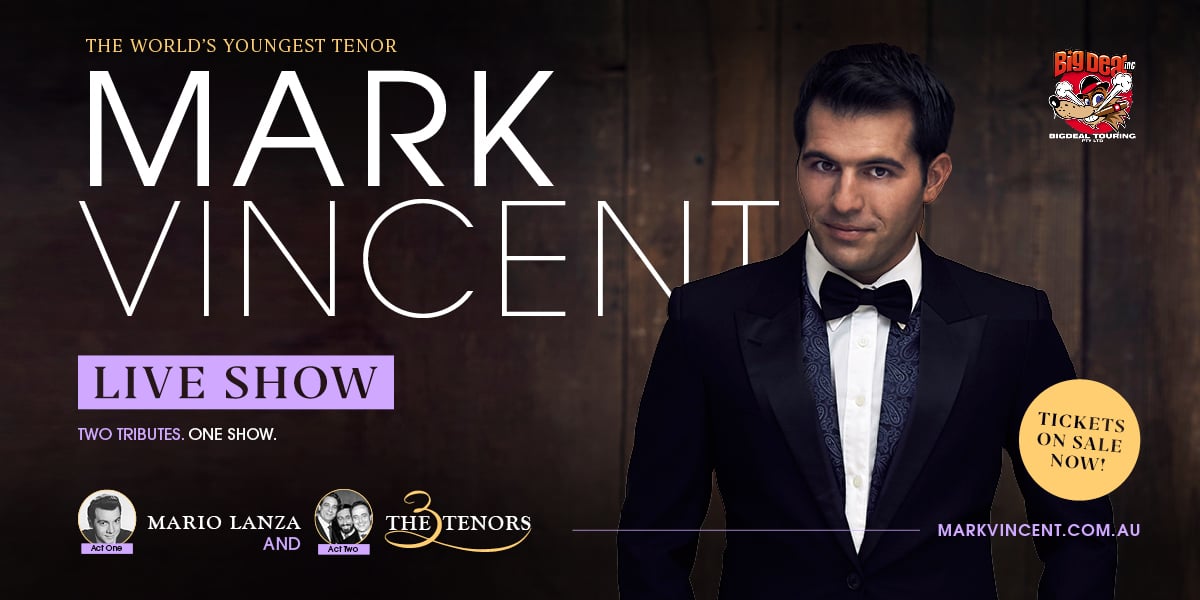 Join us for two amazing shows in one night with Mark Vincent one of Australia's most beloved tenors.
Mark has released nine consecutive #1 ARIA Classical Crossover Albums, earning accolades both nationally and internationally.
1st Half
A Tribute to Mario Lanza
Mark was introduced to Mario by his music teacher and was blown away and wanted to follow in his footsteps. Mario Lanza was one of the greatest voices of the twenty first century.
Audiences can expect an intimate evening with Mark Vincent performing a rich repertoire of songs and arias made popular by the great Italian-American tenor and actor Mario Lanza, including, Because You're Mine, Be My Love,
The Loveliest Night of the Year and Nessun Dorma to name a few.
2nd Half
A Tribute to the Three Tenors
Mark Vincent is truly honoured to be paying tribute to the greatest singers in the world; Pavarotti, Placido Domingo and Jose Carreras on his South Australian tour.
"I can remember as a child watching the three tenors in concert at Madison Square Garden in 1992. There was the President of the United States, President George Bush, Frank Sinatra, and many other performers that day.
It made me as a young boy realise that I wanted to follow in these tenors' footsteps, it inspired me to become a tenor."
In this show, expect a variety of different songs from arias to classic ballads. As well as musical theatre numbers that the tenors performed through their career. These will be songs that the audience will love and know.